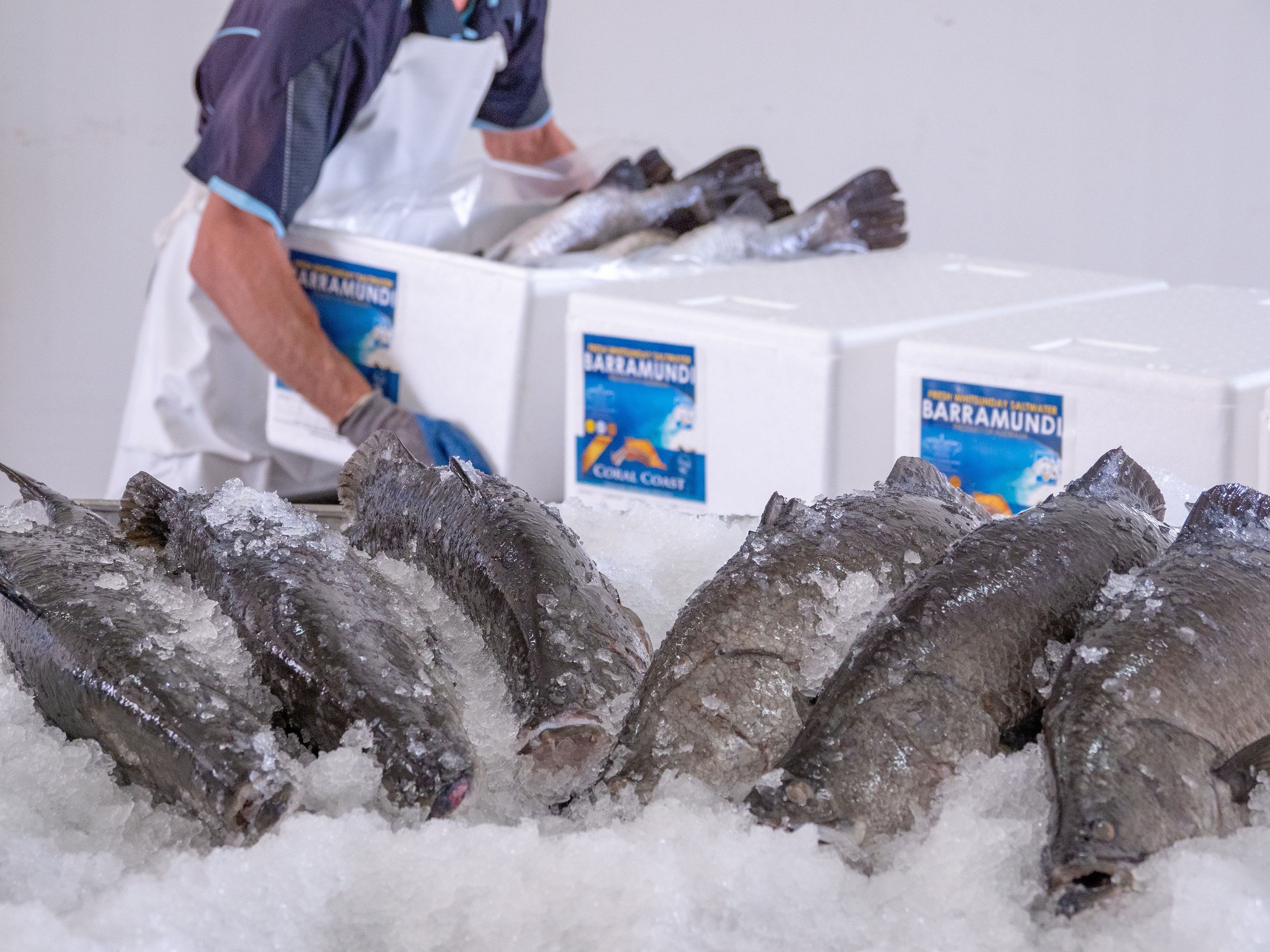 Pure, Fresh & Healthy
---

---
We leave nothing to chance in the rearing of Australia's premier saltwater barramundi. Our whole process, every input, is exactly tailored to meet our barramundi's requirements so we can exceed your expectations.
Our barramundi are from local stock, found naturally in the clear coastal water around our farm. It is through the precise management of the whole farming process from egg to dispatch, that we can ensure our fish are every bit as beautiful and vibrant as their neighbouring cousins on the Great Barrier Reef, and every bit as tasty.
Quality Australian Product
Award Winning
Market Fresh
Quality Control
---
Pure
Through a controlled water environment and diet, we can guarantee our barramundi are without the residues that may be present in other species. They are pure and safe, free from additives, contaminants, chemicals and taints.
Fresh
Our barramundi are fresh, never frozen. Out of the net and immediately into an icy brine. Delivered from catch to market within 24 hours. This happens several times a week, every week of the year. From the saltwater to your table in the shortest time possible.
Healthy
Barramundi is rich in omega-3 fatty acids, healthy fats, protein and vitamins & minerals. Eating fish regularly as part of a balanced diet, may reduce the risk of a range of diseases & some cancers and can assist brain development, heart & joint health, strengthens bones and improves eye health.
---
Simple & Award Winning
---


The farm is dedicated to producing top quality Aussie Seafood for locals and the rest of Australia.
Coral Coast Barramundi are known for being firmer, cleaner & sweeter. Chefs tell us our fish are versatile, have a superb texture, mild flavour, and are fantastic value all year round. At the Bowen site, the reef comes very close to the coast and the water is blue and clear, making it an ideal place to farm fish. The Barramundi that are grown are from local stock, found naturally in the clean coastal water of the Whitsundays.
At Coral Coast Barramundi we strive to produce a high-quality saltwater product. Farmed Barramundi produced in saltwater have a sweet flavour and never have muddy taints or earthiness. Intelligent sustainably certified farming is adopted which also reduces the pressure on the natural environment and wild fish stocks.
It is getting harder and harder to compete with imported seafood from Asia and around the world. Australian farmed, Australian grown and Australian owned gives you peace of mind that you are getting seafood grown to Australian seafood standards and supporting a sustainable Aussie industry.
Just like in the Wild
---

---
Brood stock Barramundi are housed in large tanks of saltwater where they are looked after by marine biologists 24 hours a day 365 days a year. "These breeding stocks are our pride and joy".
These fish are cared for with delicate hands. They receive specialised food for their breeding cycle and clean sterilized water. Controlled lighting and temperature ensure they are happy enough to spawn naturally when they feel the urge. Just like in the wild, all Barramundi start their life as boys and have the opportunity to spawn and breed as a male. After a few years as a male they then naturally change the development of their gonads to become a female and later spawn as a girl. "This unique process keeps us on our toes as we are never quite sure when our prized Bull may turn into a prize Heifer".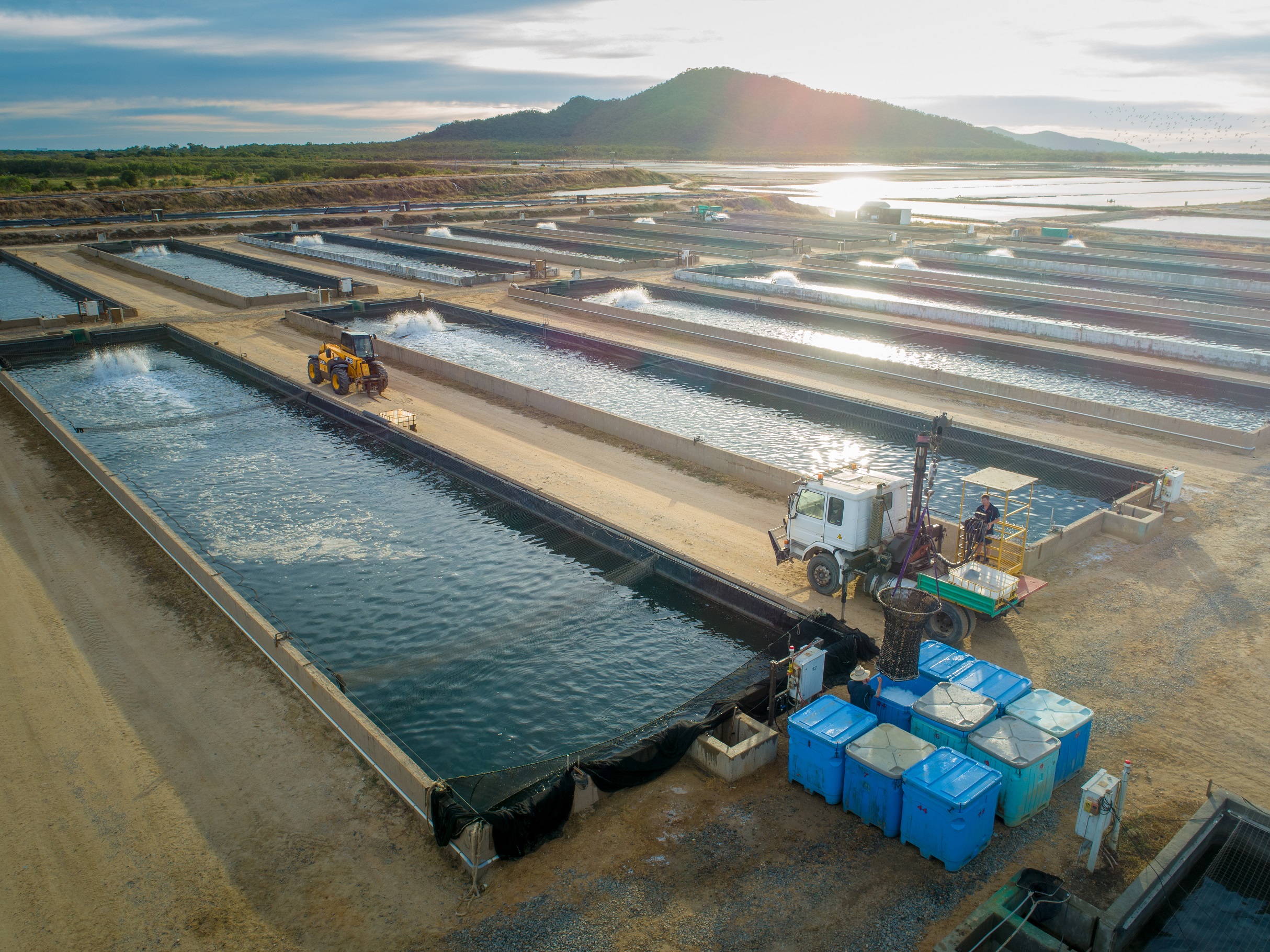 ---
Supply
We harvest, pack and dispatch within 24 hours, with delivery fresh to the market twice per week. Coral Coast Barramundi has excellent access to freight links providing our fish to your door in the shortest possible time.
Packaging
Bulk disposable bins - 200kg, 300kg & 400kg and 18kg foam boxes.
Size & Range
We grade our fish into two sizes: 2kg - 3kg & 3kg+.